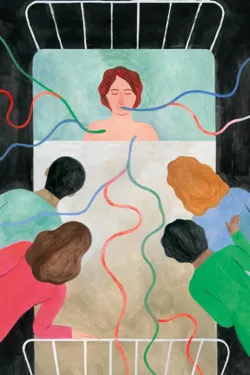 In 2019, Dr. Richard Leiter, a palliative care specialist, met a patient and the man's wife in the intensive care unit at Brigham and Women's Hospital in Boston. The patient, in his 70s, had heart disease and kidney problems. But he had been living at home and doing reasonably well until sepsis, a life-threatening bloodstream infection, sent him to an emergency room.
He had already spent several days on a ventilator, requiring drugs to keep his blood pressure from plummeting. Now, "his kidneys were no longer working and he wasn't waking up at all," Dr. Leiter recalled, adding, "We were very worried that he wasn't going to survive."
When the kidney palliative care team — including a nurse-practitioner and a social worker, as well as a consulting nephrologist — met with the man's wife to discuss treatment, it proposed what is known as a time-limited trial, in which life-sustaining treatment continues for an agreed-on period to see how the patient responds.